Well-placed parliamentary sources told The News here Sunday that ministers and MNAs will also take up the exchange of letters between President Arif Alvi and Prime Minister Shehbaz Sharif.
Interestingly, opposition senators under the leadership of Senator Dr Shehzad Waseem will also attend the joint sitting to put up PTI's point of view on the issues.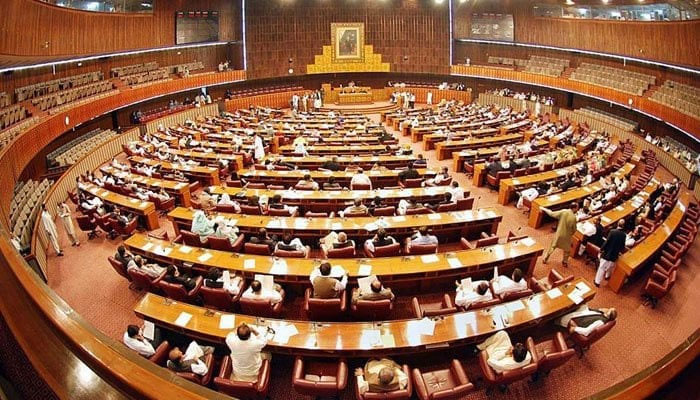 The PTI members for the first time would attend the parliament's joint sitting after the ouster of their government in April last year.
Shehzad has taken guidance from his party Chairman Imran Khan for the sitting. He will chair the opposition parliamentary group's meeting before the commencement of the session. The opposition will agitate on certain subjects, including the rescheduling of Punjab and Khyber Pakhtunkhwa provincial assemblies elections.
It is likely that the joint sitting would be adjourned for about 10 days at the conclusion of the day's proceedings. The sources pointed out that a resolution to deal with the respect of national institutions, running affairs strictly according to the Constitution and law by different institutions would also be a part of ongoing joint sitting. The outlines for the resolution have been worked out and would be put up in the sitting for adoption, the sources said.
The National Assembly is also commencing its 51st session today (Monday). Eight-point agenda has been issued by the NA Secretariat.
Asiya Azeem of the PTI coming from the dissident group and Alyia Kamran of the JUIF would put up two call-attention notices separately.
Asiya Azeem will invite the attention of the minister for interior to a matter of urgent public importance on the increase in crimes in the federal capital, particularly against women, causing grave concern amongst the public.
It is expected that Minister of State for Interior Abdul Rehman Kanju will respond to the notice. The sources said that Kanju will also respond to the calling attention of Aliya Kamran, who will invite attention to a matter of urgent public importance regarding incidents of human trafficking, causing grave concern amongst the public.
Federal Minister for Information and Broadcasting Marriyum Aurangzeb will introduce a bill to amend the Protection of Journalists and Media Professionals Act 2021. She will also introduce a separate bill to amend the Press, Newspapers, News Agencies and Books Registration Ordinance 2002.
The motion of thanks for the president has also become a part of the agenda and it says "discussion on the following motion moved by Murtaza Javed Abbasi, Minister for Parliamentary Affairs of 12th December 2022:- "This House expresses its deep gratitude to the President of Pakistan for his address to both Houses assembled together on 6th October 2022."
Member-elect National Assembly Mohsin Leghari of the PTI, who was elected from Rajanpur in a by-election held early this month, will take oath.
The National Assembly's session would start at midday 12.00 noon while the joint sitting of the two houses will commence at 3 pm.